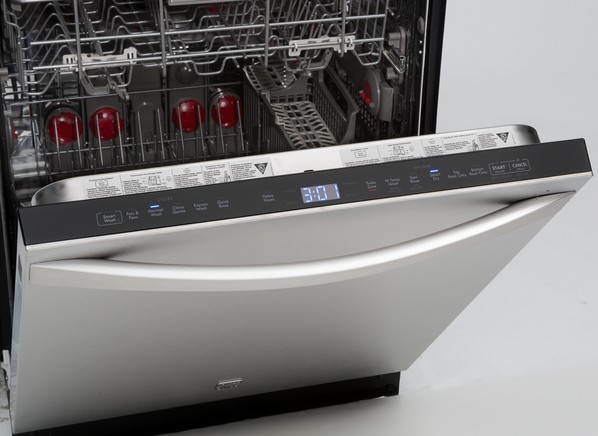 The Kenmore Elite Dishwasher is the workhorse of dishwashers. It isn't flashy or fancy. It won't blow you away with its hi-tech gadgetry or incredible capabilities. What it will do is get your dishes clean. Every time.
Cherry red accents adorn the interior of the Kenmore Elite dishwasher. With its TurboZone Reach, high-power sprayers, and jets mounted on the walls of the dishwasher, your dishes will get a 360-degree power wash.
With these features and more, it delivers on the promises it makes. Unfortunately, what you gain in cleanliness, you pay for in time, but we'll discuss more about that later.
As long as your primary need is a dishwasher that gets your dishes spotless every time you run it, the Kenmore Elite dishwasher is right up your alley.
Features
The cycles available on the Kenmore Elite Dishwasher include Express Wash, Normal Wash, and Pots and Pans. These three cycles are going to cover the vast majority of your dishwashing needs.
You also have a Smart Wash cycle, which is great for heavily soiled dishes, and a China Gentle for those dishes you typically wash by hand.
Next, there's a Quick Rinse cycle, which is a way to refresh dishes that have been sitting for a while. The purpose of the Quick Rinse cycle is to prevent a half-load of dishes from getting too smelly before running a full load.
The Kenmore Elite Dishwasher uses up a typical amount of water and power when running on its default cycle settings. However, there are a few ways you can get a little more efficiency out of the dishwasher.
Half loads
A Bottom Rack and Top Rack Only cycles allow you to wash half a load. As a result, you aren't using as many resources. Additionally, if you need to wait to start your load, there is a Delay option.
This feature lets you hold off on starting the cycle for up to twenty-four hours. This might be ideal if you want to have your machine run at night during off-peak hours.
For the price you pay, the Elite dishwasher feels like it should come with a few more features. For instance, there is no third rack option, and there aren't very many collapsible tines available.
The machine makes up for it a little by offering a cutlery basket that provides a lot of flexibility as you load your silverware.
Lastly, you can customize how your cycle washes your dishes with Hi-Temp Wash, SaniRinse, and TurboZone options. A cancel button allows a simple way to quit a cycle while it's running.
You have to hold the button in for 3 seconds for the cycle to stop. This prevents someone from accidentally quitting the cycle by inadvertently pressing the button.
Design
When you look at the Kenmore Elite dishwasher from the outside, it's tough to distinguish it from other stainless steel dishwashers. Once you open the door, you'll discover the hidden controls and a design that makes the Elite one of Kenmore's best dishwashers.
Not that we advise it, but if you decided to crawl inside the Kenmore Elite dishwasher you would think you stepped into your very own personalized water park.
The 360-degree power wash we mentioned earlier has a spray arm that spins both clockwise and counterclockwise. This arm takes up the majority of the tub's bottom to ensure plenty of coverage.
Along the walls, you'll find a row of jets intended for the glasses you place in the top rack. The TurboZone high-powered spray jets along the back of the dishwasher are in place to do the heavy lifting.
These jets are used to remove stains from pots, pans, and serving dishes. All of these jets and washes are in place to ensure that every dish loaded into the dishwasher gets plenty of attention.
Exterior
If you're the type of person who prefers a sleek and clean exterior on your appliances, the Kenmore Elite Dishwasher is perfect for you. Since the control panel is hidden out of sight at the top of the door, the stainless steel body sits front and center.
If you already own a Kenmore, then you're aware that the Kenmore badge is on the front as well. Otherwise, nothing but smooth steel greets you when you gaze upon the Kenmore Elite Dishwasher.
Additionally, you can adjust the height of the upper rack. Doing so provides plenty of room for nearly a dozen place settings.
The top drawer opens and closes smoothly, and you'll notice a couple of spots for stemware, as well as a fold-down shelf for cups. However, these are typically standard on most dishwashers. When you use them, you sacrifice space for your glasses and coffee mugs.
Performance
After running a cycle, you'll discover that the Kenmore Elite dishwasher starts its Smart Dry option automatically.
Drying times vary depending on the amount of moisture the internal sensors recognize. That means your cycle times will vary as well. Of course, the drawback is that your dishwasher is going to have longer cycles.
A Normal Wash cycle, for instance, could take up to three hours to complete. If you're running the Pots & Pans cycle, you're looking at nearly four hours if everything else is on the default setting.
The question is, are you willing to wait? If you are, it's worth it, as nearly all of your dishes will come out clean and dry.
Once the cycle is complete, you'll experience no redeposit, which is a good indicator of a thorough and complete filtration system.
The dishwasher isn't perfect, so you may experience a few items that don't get completely clean, but such instances are rare. If you want to get your dishes through a cycle in a hurry, then your best bet is the Express Wash.
This cycle provides a fast dishwashing option, taking less than an hour to complete. While your heavily stained dishes aren't going to come clean, this cycle is more than adequate for cleaning dishes with light stains.
The drawback to using the Express Wash is that the Smart Dry never engages. Because of this, your dishes will be wet when you open the door to unload them.
However, even when the Kenmore Elite dishwasher is going through its longer cycles, you'll hardly notice an increase in water consumption or electricity. For its part, the Elite is on par with average usage for dishwashers currently available in today's market.
Warranty Information
As is the case with most large appliances, Kenmore will cover replacement and repair of any defective parts for the first 365 days. Kenmore does break the mold a bit by covering the cost of parts for two years. However, you have to pony up for the cost of labor.
The company will also cover replacement parts for the lower and upper dish racks for five years. Yet, again, you must pay for the labor. Lastly, your Kenmore Elite dishwasher stainless steel inner door panel and tub are covered for as long as you have the machine.
Pros and Cons
Like all dishwashers, the Kenmore Elite dishwasher has its share of advantages and drawbacks. Here are a few of the more prominent pros and cons you'll want to know before purchasing a Kenmore Elite:
Why You Should Buy a Kenmore Elite Dishwasher
If you're in the market for a dependable dishwasher that's going to get your dishes clean, the Kenmore Elite dishwasher is perfect for you.
It's a fundamentally sound and reliable dishwasher. However, at $900, you would expect it to include a few more bells and whistles, or at least a third rack.
That being said, there are several reasons to buy the Kenmore Elite. To begin with, it does what it's made to do.
It gets your dishes clean, which many other brands and even more expensive machines can't claim. Of course, as we've discussed, it can take a few hours for a cycle to complete. However, you're rarely if ever, going to have issues with dirty dishes.
The stainless steel interior and exterior make the Kenmore Elite a sleek and aesthetically pleasing machine to have in your home. It operates quietly, and Kenmore offers a fantastic warranty program that covers any issues that may arise.
When it comes to a quality dishwasher that offers an excellent cleaning performance and brand reliability, the Kenmore Elite dishwasher is hard to beat.
Featured image via Sears.com