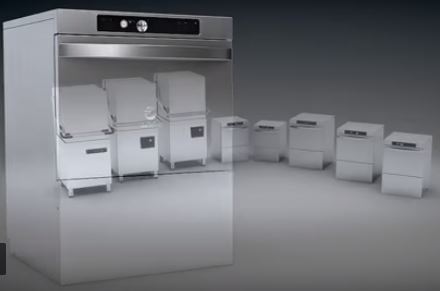 Are you running a restaurant or cafe, or thinking of opening one? Then you'll need the right commercial dishwasher for the job.
Clean dishes are a crucial part of getting customers to want to visit your establishment again and again. Not to mention the savings you will get in labor costs, and food safety requirements.
The busier your establishment gets, the less realistic operating without a commercial dishwasher becomes. You don't want to be that restaurant that's always running out of silverware because the (human) dishwasher can't keep up.
The right commercial dishwasher can solve your food service woes. Which one should you choose, though? There are many different models on the market, and some are better suited to certain purposes.
In this detailed guide to the top commercial dishwashers, we'll go over everything you need to make the right choice.
Commercial Dishwasher FAQs
A high-quality commercial dishwasher must meet a few important requirements. It should be easy to use, so your staff isn't struggling to get it to work. It needs to be fast, so it's not adding to customers' wait time.
Also, it needs to be sanitary, so it meets health code requirements and produces pristine-looking dishes.
Neglecting the importance of a dishwasher in a restaurant is easy. However, there's no faster path to a bad Yelp review than a dirty dish.
Let's go over some of the questions that get asked the most when you're trying to find the right commercial dishwasher.
What is a commercial dishwasher?
First of all, it's important to understand the distinction between a commercial dishwasher and the dishwasher you might have in your home.
The main thing that sets commercial dishwashers apart from residential ones surprisingly isn't size. Commercial dishwashers are set apart by their speed.
When you buy a commercial dishwasher, it's designed to have a super-fast wash cycle and minimal drying time. Many commercial dishwashers can complete one load in a minute, so you'll never have to wait for more plates.
Standard home dishwashers take a half hour or more, and many shorter cycles don't clean well.
However, just like with a home dishwasher, your commercial dishwasher can't clean up all the debris from a plate. You'll need a rinse station, cleaning most of the food waste before you put the dishes through the cycle.
What are the types of commercial dishwashers?
There are four main categories of a commercial dishwasher. Knowing which type is right for you will help you narrow down the selection to the right choice.
Under-counter
An under-counter commercial dishwasher is ideal for coffee shops, or small restaurants and bars. It fits under the counter, which saves space but doesn't hold as many dishes as a larger model.
If you have a high-capacity kitchen, these smaller models might slow your operations down.
If you want a machine with easy installation that won't take up any counter space, or need to save money, an under-counter model might be right for you.
Glasswasher
Glasses are easier to break than other dishes. If you'll be using a lot of glasses in your establishment, it's a good idea to invest in a glass washer.
These models are as powerful and fast as other commercial dishwashers but have a more gentle water flow.
That is the best way to wash delicate glassware like champagne and martini glasses. You can use most glasswashers for other types of dishes, too.
Many glasswashers are undercounter dishwashers, and are similar in price to other under-counter models.
However, you can also get glasswashers in different styles, which tend to be more expensive.
If you're running a bar that uses a lot of glasses, a glasswasher is a good choice. However, if your kitchen will need to clean a lot of big pots and pans, a glasswasher may not cut it.
Door type
Door type dishwashers have a big door on the front that stays open until the dish rack is filled.
Then you can slide the rack in, shut the door, and have clean dishes about a minute later. These large, efficient, fast models are great for large, busy kitchens.
Door type models have bigger capacities than under-counter dishwashers and require more space. Their operation also needs more energy and water.
If you need to wash a lot of dishes quickly and efficiently, and can afford the space and energy, this is the right commercial dishwasher for you. Door type dishwashers are the most popular type of commercial kitchen dishwasher.
Conveyor type
If you need an even higher capacity, the conveyor-type dishwasher is the way to go. These dishwashers have the highest capacity of any model on this list - but they also take up the most space.
These dishwashers are most often used in places like cafeterias that have tons of traffic and need to be able to get through multiple loads of dishes in the course of one meal.
For example, you'll likely see conveyor type dishwashers in hospitals, universities, schools, and hotels.
In addition to being the largest commercial dishwashers, conveyor models are the most expensive. However, they have more power, more capacity, and can clean lots of dishes fast.
If your establishment has a high demand for dishes, and enough space, you might want a conveyor type dishwasher.
What commercial dishwasher features should you look for?
There are a lot of practical needs that your commercial dishwasher has to meet. A good one will keep operations running smoothly, which will help increase your profits.
But the wrong one might cost more than you can realistically keep up with, make your kitchen less efficient, or take up an impractical amount of space.
Size
Size matters: some models might just be too big for the space you have. Make sure to take measurements of your kitchen, so you know exactly how much room you're working with.
However, in addition to considering the space you have, you also need to think about maintaining a good workflow in the kitchen.
Make sure that your dishwasher won't get in the way of people doing their jobs. Just because it can fit doesn't mean it will fit well.
Ease of use
Another important consideration is how easy the machine is to use. Your employees will be using your commercial dishwasher multiple times every day.
If it's difficult or awkward to use, that will quickly become a problem. Some models aren't easy to use if you put them in a space they don't fit in.
For example, the best door type dishwasher won't work well if you put it somewhere that makes it hard to open the door.
Before you invest in a commercial dishwasher, imagine any potential issues that could arise. Think about any features that might help make it easier to use, like having the right settings or fast-loading racks.
Temperature
You can choose between high- and low-temperature commercial dishwasher models. High-temperature models sanitize dishes using heat, with a 180-degree rinse cycle.
Low-temperature machines don't get that hot and sanitize dishes using chemicals instead.
High-temperature dishwashers are more common machines, but it isn't necessarily better than the other. The high-temperature models are more expensive and use more energy, but the dishes dry faster, and you'll save money on sanitation chemicals.
Low-temperature models are cheaper to buy and to use, but you'll also need to buy the chemicals on a regular basis. They can damage some kinds of dishes, too.
If you're concerned about the environment, you'll definitely want a chemical-free high-temperature model. Some people say high-temp dishwashers also get the dishes cleaner.
Noise
Finally, a consideration that's all too easy to overlook until you've made a purchase is noise.
Commercial dishwashers tend to be loud - there's no getting around that. More powerful dishwasher models are louder than other dishwashers.
The smallest undercounter models are the quietest, which is excellent for small establishments that need to put the dishwasher near where customers are sitting. However, if you need a larger model, expect it to be noisy.
That said, some brands are known for making quieter machines than others. If noise is a concern for you, look for brands that are known for being quiet (more on that below).
How We Reviewed
Since there is such a variance between commercial dishwasher types, we decided to compare brands instead of specific models.
Most of these brands make a number of different models, so you can determine which brand has the pros and cons you're willing to work with and choose the model that best fits your needs.
Top 10 Commercial Dishwasher Brands
We've listed some of the top-rated brands here, in no particular order.
Fagor
[amazon box="B01E4ALD3Y"]
Fagor has a strong reputation for making commercial appliances of all kinds. Their dishwashers are known for being easy to use and tend to be on the small side, so they're a good choice for smaller kitchens.
However, if you need a larger commercial dishwasher, Fagor likely won't have what you need.
This brand's CO-502W Evo Concept Undercounter Dishwasher retails on Amazon, which is right in the middle of the undercounter dishwasher price range.
CMA Dishmachines
CMA Dishmachines makes a larger variety of commercial dishwashers than Fagor. This brand has all the major dishwasher types available, from undercounter to conveyor. Their machines are easy to use, sturdy, and fast, so these are an excellent choice for a busy establishment.
[amazon box="B00JVXENNW"]
However, some people have noted that their dishwashers tend to drain slowly, which is a small drawback that might influence your decision.
CMA's EST-66H/R-L Conveyor Dishwasher is a great choice for food service establishment.
Jackson
[amazon box="B00PKSCDRU"]
Jackson is another reputable commercial dishwasher brand. Their machines are known for being reliable, fast, and long-lasting. They also have a solid customer service department in case you need repairs done.
Miele
[amazon box="B00WOEHMLK"]
Miele dishwashers are considered by many to be the top of the line. This well-known brand name makes machines that are efficient, fast, and quite - perfect if noisiness is an important consideration for you.
However, as with most name-brand items, they aren't cheap. If you want a Miele model, you'll need to budget more for it.
Jet-Tech
[amazon box="B0085ISH5E"]
Jet-Tech's dishwashers are fast and tend to have strong water pressure. This isn't ideal for delicate glassware but can help get dirty pots and pans cleaner than other dishwashers.
Their machines also tend to last a long time. However, some people have found Jet-Tech's machines a bit difficult to use, and they drain more slowly than other models.
[amazon box="B00E5N8ZJQ"]
Their products are known for being easy to use. Electrolux models also have some high-tech performance options, such as extra control over how dishes are washed and sanitized.
Champion
Champion makes models in all sizes, from under-counter to conveyor type. Their dishwashers are efficient and easy to use.
[amazon box="B005V6T63A"]
They're a bit on the pricier side, but not as costly as Electrolux and Miele, so they're a good compromise if you want high quality and value.
The DH-2000 Versa-Clean Dishwasher is a good-sized door type model for many establishments.
Hobart
[amazon box="B01CERMEWS"]
Hobart is a time-tested appliance company: they've been making products for the foodservice industry for over 100 years.
Their dishwashers work well, but you often have to pay more for the features you may want, such as a booster heater to keep the water hot enough.
This can make Hobart's machines even less cost-effective than they seem at first glance.
Moyer Diebel
[amazon box="B0049GMP0O"]
Moyer Diebel specializes in commercial dishwashers and offers models of all sizes and types. Their models have a one-year warranty for both labor and parts, and you can add options and accessories as you please.
You'll need to buy your fill and drain hoses, hose connectors, and peg rack separately. Still, these are high-quality, affordable machines, even when you add in the cost of buying those parts.
Bosch
Bosch is known more for home than commercial appliances, but they're a good source of affordable, smaller under-counter models. These are among the quietest dishwashers on the market, so consider a Bosch if noise is a concern.
[amazon box="B076DJMXZH"]
However, there are a few places where the quality may be lacking: for example, some models have plastic handles that break easily.
The Verdict
Choosing a commercial dishwasher is vastly more complicated than choosing one for home use. You need a machine that's the right size, capacity, and price for your establishment. With so many different models out there, it can seem hard to make the right choice.
However, most commercial kitchens have constraints that make it easy to narrow it down. Once you've measured your space, taken a close look at your budget, and considered your establishment's capacity, choosing the right dishwasher style becomes easier.
Every brand on this list makes reliable machines that will get the job done. The right one for you depends on the pros and cons that matter to you most.
Do you need a quieter dishwasher or a bigger one? Do you want customizable wash cycles or a basic machine that's simple and straightforward? It all depends on what your priorities are.
Which commercial dishwasher features matter most to you? Leave a comment and let us know!
​