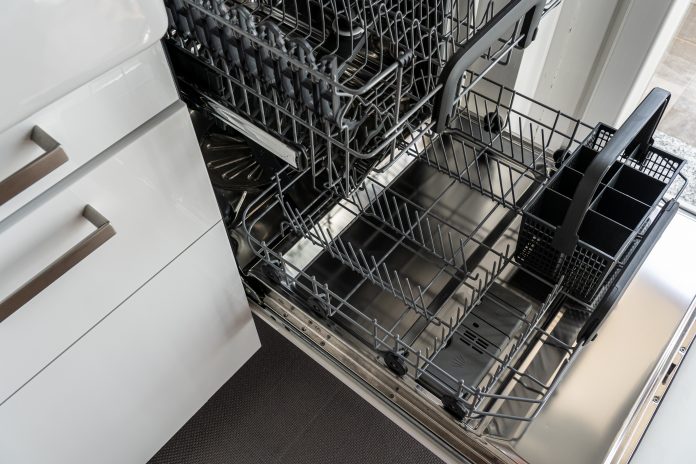 Viking remains a name long-established and trusted within the field, and a Viking dishwasher stands for quality and performance in your kitchen. Furthermore, Viking produces a range of professional dishwashers for commercial purposes and domestic use, so they know what they are doing. When you consider investing in a new machine, you won't go wrong with a Viking dishwasher.
The dishwasher has been around for almost 160 years, but women still spend up to 66 minutes a day doing dishes by hand while men spend up to 42 minutes a day. It's a chore that many of us dread, and in a time when technology remains more affordable than ever, being chained to the kitchen sink is a thing of the past. So, if you need to invest in a new machine, our Viking dishwasher review may help you make the best choice for your home.
Viking Dishwasher
In the USA alone, some 431 million home appliances shipped to homes in 2020. Considering the extraordinary circumstances we find ourselves in, this is a striking figure. Furthermore, many of those units consisted of dishwashers.
A Viking dishwasher represents a dishwasher with a history of excellence. From superb design to exceptional functionality, you buy peace of mind when you purchase a Viking dishwasher.
The Viking VDWU524SS features 16 place settings with improved spray arms for excellent cleaning. Also, the Viking FDWU524 boasts superior racking systems and cleaning sensors to provide superb washing.
Dishwashers represent a considerable investment for our homes, so we want to make sure we get our choices right. Therefore, we hope you find our Viking Dishwasher reviews useful.
Recommended Read: 15 Genius Dishwasher Uses for a Cleaner Home Today
How We Created Our Viking Dishwasher Reviews
We searched the world wide web for sites that sell the Viking range and paid particular attention to customer feedback. The end-user remains the most formative source for information regarding using the dishwashers, and their experience proved invaluable.
So, we chose only those dishwashers that display good quality feedback and reviews to ensure you have the pick of the best machines.
Our Viking Dishwasher Reviews
We selected the best products for domestic use that encompass a wide variety of functions.
3 Series VDW302WSSS
The 3 Series VDW302WSSS Viking dishwasher is a 24-inch built-in dishwasher with 8 wash cycles, 14 place settings, and a quick wash function. The model allows you to choose between a water softener and a non-water softener model. The stylish Viking dishwasher comes in a stainless-steel finish with a sleek handle making it a smart addition to your kitchen.
The machine weighs just under 100 pounds and measures 33.87 inches in height, 23.56 inches in width by 22.18 depth. Consequently, the size means it may fit in most kitchens.
This particular Viking dishwasher accommodates 14 place settings with an adjustable third rack, making it easier for the user to load. Also, the adjustable stemware shelf provides a versatile, convenient space for utensils and tall glasses. Additionally, the folding tines allow for the easy loading of pots and pans.
It's all about the wash
When it comes to washing, the 3 Series VDW302WSSS performs well with six standard wash cycles and an energy star rating to save on running costs. The cycles include pans plus, pans normal wash, a light china wash, a fast cycle, and a rinse and hold option. Also, the excellent design of the three spray arms ensures a thorough clean.
Function and style
The LCD screen on the front of the machine lets you know where you are in your wash cycle. The dishwasher proves easy to use, and the well thought out design of the cutlery and dish rack ensure ease of operation at every stage.
The deep truth
Most customers report how the dishwasher proves very efficient with excellent cleaning power. The adjustable rack and the neat, easy rack system make it easy to use and fill. Plus, users appreciate the option of the customizable door.
The baked-on stains
Some users did not appreciate the high price tag and felt it lacked the features of many cheaper machines. Also, a few customers found the dishwasher noisy and felt the build lacked durability.
Viking VDWU524SS
The Viking VDWU524SS is a 24-inch built-in dishwasher with 8 cycles, 16 place settings, and arrives energy star rated. Not only that, this particular Viking dishwasher features 8 wash cycles for a comprehensive clean. The cycles include the innovative quick wash, which may handle lightly to moderately soiled dishware in 60 minutes.
With a host of money-saving features, including the energy rating, quick wash, and a turbofan dry feature, the Viking VDWU524SS proves a highly efficient machine. Additionally, the machine demonstrates surprisingly quiet during operation.
All reaching clean
The power of the dishwasher derives from its multilevel washing feature with three powerful spray arms. A stainless-steel bottom spray arm, upper spray arm, and top nozzle cover all angles to ensure a satisfactory clean. The extra spray arm provides intensive lower rack washing, particularly suited to large cookware and pots.
Blissful loading
Sometimes when we load a dishwasher, it feels like a complicated jigsaw puzzle. However, Viking made loading a dream by including a total of 14 split, foldable tines. And the 180-degree adjustability from flat to vertical may easily accommodate your tableware.
A three-position adjustable rack provides increased versatility, and a telescopic rail ensures smooth maneuverability for the upper basket.
Size matters
The Viking dishwasher measures 23.56 inches in width, 35.87 inches in height with a depth of 22.18 inches. The tub is stainless steel with an exclusive smart size rack and an upper smart full-size rack.
The deep truth
Users love the machine's quiet operation while many customers appreciate the variety of functions the dishwasher provides. Many customers report that the adjustable racks and tines were useful when loading their machines.
The baked-on stains
Some users claim they need to pre-wash the dishes before loading them into the machine, defeating the purpose of a dishwasher. And some users found that the dishwasher failed to dry the dishes adequately.
Recommended Read: WDF520PADW – Best Whirlpool Dishwasher You Can Check Online
Viking FDWU524
The Viking FDWU524 is a 24-inch built-in dishwasher featuring 8 wash cycles and 16 place settings. Furthermore, the machine uses a quick wash feature for light to moderately soiled dishes and also a soil sensor to help you find the best cycle to use. The good news is, the dishwasher is energy star-rated to save you money when operating.
The dishwasher uses a smart LCD control panel for easy viewing of cycle and option selection together with remaining wash time.
Multilevel washing
The innovative variable pressure wash feature adjusts water volume, pressure, and temperature according to the load size. The multilevel washing derives from a stainless-steel bottom spray arm, upper spray arm, and a top nozzle. Additionally, a turbidity sensor monitors the dishes' soil level and compensates to provide superior cleaning power.
Functionality
The express function uses a sensor to detect rinse aid and automatically set the drying cycle time. The sanitize function raises the temperature during the final rinse, while a high gloss feature provides superior drying performance for sparkling glasses and tableware.
Superior loading
The top and bottom baskets come in a heavy gauge material to withstand heavy pots and pans. The upper smart rack allows for cutlery cleaning while washing tall items simultaneously in the upper rack. The top rack remains adjustable with three positions for more straightforward and efficient loading.
Size matters
The machine measures 23.56 inches in width, 35.87 inches in height, and 22.18 inches in depth. You can choose from a stainless-steel door or a wood effect panel to match your kitchen.
The deep truth
Customers love the quiet operation and the flexibility of the loading racks. Most users found that the machine cleaned their dishes efficiently and remained happy with the dishes' drying. Many users appreciate the range of innovative functions and the quick wash facility.
The baked-on stains
Some users found the dishwasher challenging to install, while others felt it didn't fit the full 16 place settings specified. And some clients reported that the dishwasher didn't dry items well enough for the price.
Viking RVDW103SS
The Viking RVDW103SS is a 24-inch built-in dishwasher with 6 wash cycles and 14 place settings. It features a quick wash function, a soil sensor, and a multilevel power wash. The dishwasher comes in stainless steel and has a stainless-steel interior.
It's all about the wash
The dishwasher performs well with heavily soiled dishes and saves money with efficient energy and water usage. The turbidity sensor adjusts the clean for efficient operation, and a triple filter system removes the smallest particles for clean water circulation. Furthermore, the filter is removable so that you may wash it by hand.
Any condensation within the machine collects around the stainless-steel tank and door to drain away to the sump area. An innovative flow-through water heater remains concealed from the user to provide a safer alternative to exposed heaters.
Multilevel cleaning
The three spray arms ensure a thorough clean to reach all parts of the interior. Additionally, the dishwasher contains a two-position adjustable upper rack, while the lower rack has moveable tines to allow for easy loading.
In addition to the baskets, the dishwasher features two stemware cradles. An LCD screen contains a remaining time indicator, and the dishwasher uses an innovative floor light to indicate its cycle run.
Size matters
The dishwasher measures 23.56 inches in width by 33.87 inches in height and 22.18 inches in depth. It has a quiet, clean operation at 48 decibels.
The classic design features a stainless-steel door with a modern, sleek handle.
The deep truth
Customers love the cleaning ability of the machine and enjoy the smart appearance. Also, users found the controls easy to use and intuitive.
The baked-on stains
Some users complained that the machine proved too noisy when washing. And some found that the short cycle didn't wash properly or dry the dishes.
Our Viking Dishwasher Reviews Explored
Many of us may get by without a dishwasher, but most of us wouldn't want to. The machines no longer represent luxury in our homes but rather a necessity, especially if you have a large family. Dishwashers save time and take the hassle out of mundane chores, and buying the correct model remains paramount.
The Viking FDWU524 represents one of the best dishwashers from the brand, with superb basket adjustability and excellent cleaning power. Also, the 3 Series VDW302WSSS Viking dishwasher gives outstanding performance from a machine that also looks good.
Viking remains a brand that produces top-quality dishwashers that provide excellent cleaning capabilities and innovative functions. While they may feel expensive compared to other brands, the attention to detail Viking puts into every dishwasher sets them apart.
Customers praise their ease of use throughout our research, but it's the adjustable baskets and great racks that make them special. We may find our dishes partially clean all too often because of the way we arrange them inside the dishwasher. However, with moveable tines, adjustable baskets, and innovative cutlery trays, Viking stands out in a crowded field.
Do you have any experience of using a Viking dishwasher? Why not tell us about it by making a comment in the space below?
---
Sean Kerr lives in Cardiff, Wales, and is a published author with over 10 novels to his name so far and still counting. As well as writing his next bestseller, Sean also runs a successful jewelry making business and sells his creations online. Get more of Sean's handy kitchen tips at BestKitchenFaucetsHub.