Whether you're remodeling your entire kitchen or your 20 year old dishwasher has finally broken down, you know it's time to choose one of the best dishwashers for 2021 to put in your kitchen.
But since there are so many makes and models on the market, it can be difficult to figure out which one is right for you.
From stainless steel dishwashers to dishwashers, you can start with an app on your phone, you know you have your work cut out for you as far as shopping goes.
So, where do you start?
How to Choose the Best Dishwasher for You
The first thing to do when deciding on a dishwasher for your kitchen is to determine your budget.
Put a cap on your spending, and don't let yourself go over your limit. A good rule of thumb to follow is not to buy anything that you cannot afford to purchase twice.
Another is to consider your space. How big is the space in your kitchen, and how will you fit your new dishwasher through the doorway?
What features matter most to you? Decide if you need good wine stem holders or specialized jets before making your purchase.
And finally, consider the dishes that you plan on washing. If you use a lot of plastic plates and sippy cups, you'll want something made with cleaning plastic in mind.
Maybe you'll primarily use your dishwasher for ceramic plates and cups or perhaps pots and pans. Make sure your new dishwasher isn't too harsh and isn't too easy on grime, either.
With all of that in mind, you're ready to look over the best Dishwashers for 2021 and the years that will follow!
Must-Have Features
But there's more to a good dishwasher than wine glass holders and specialized jets. There are some features that make doing the dishes a breeze in ways you didn't even know of.
Some of these features may cost more than others but are overall well-worth the price.
Take your time with the decision, so you get all the best features in one!
Automatic door opening
This may seem like an odd addition, but a door that pops open on its own is actually very useful.
When the front door of your dishwasher has the ability to open on its own, it releases the steam from its cycle. When the steam is let out, your dishes will have fewer watermarks and dry better.
If you find yourself forgetting to check on your dishes after you've run your dishwasher, this feature is an absolute must-have.
A third rack
Everyone loves to have more space, and this is especially true in the kitchen!
Having a third rack can open up a whole new world for you because when more dishes get done at once, you'll be able to save both time and counter space.
The additional third rack often fits only smaller items, like various types of silverware. But it's still very helpful nonetheless.
Wine stem holders
We've already briefly touched on the subject of good wine stem holders, but it's such a great addition to dishwashers that we just have to come back to it.
Having something to keep your stemware in place is something you absolutely need if you're a big wine drinker.
Stem holders are basically little plastic pieces that lower onto a glass's stem to keep it safely in place during the entire cycle.
This is also great because it gives you that little extra peace of mind when leaving your most fragile dishes in your dishwasher's care.
Low noise
Noisy dishwashers are annoying, plain and simple.
That's why the less noise there is, the better. Many higher-end models nowadays make little to no noise, which is very nice to have.
Some models are so quiet that you can't hear them even if you're in the same room while it's running.
Another feature that goes hand in hand with silence is an InfoLight, which is a little light that flicks on to let you know that your dishwasher is running at all.
Best Dishwashers for 2021
We've searched far and wide to bring you the best dishwashers for 2021, with selections that range from smart appliances to the perfect companion for a busy parent.
Let's get right down to the list and get you your next dishwasher as soon as possible!
Bosch 500 series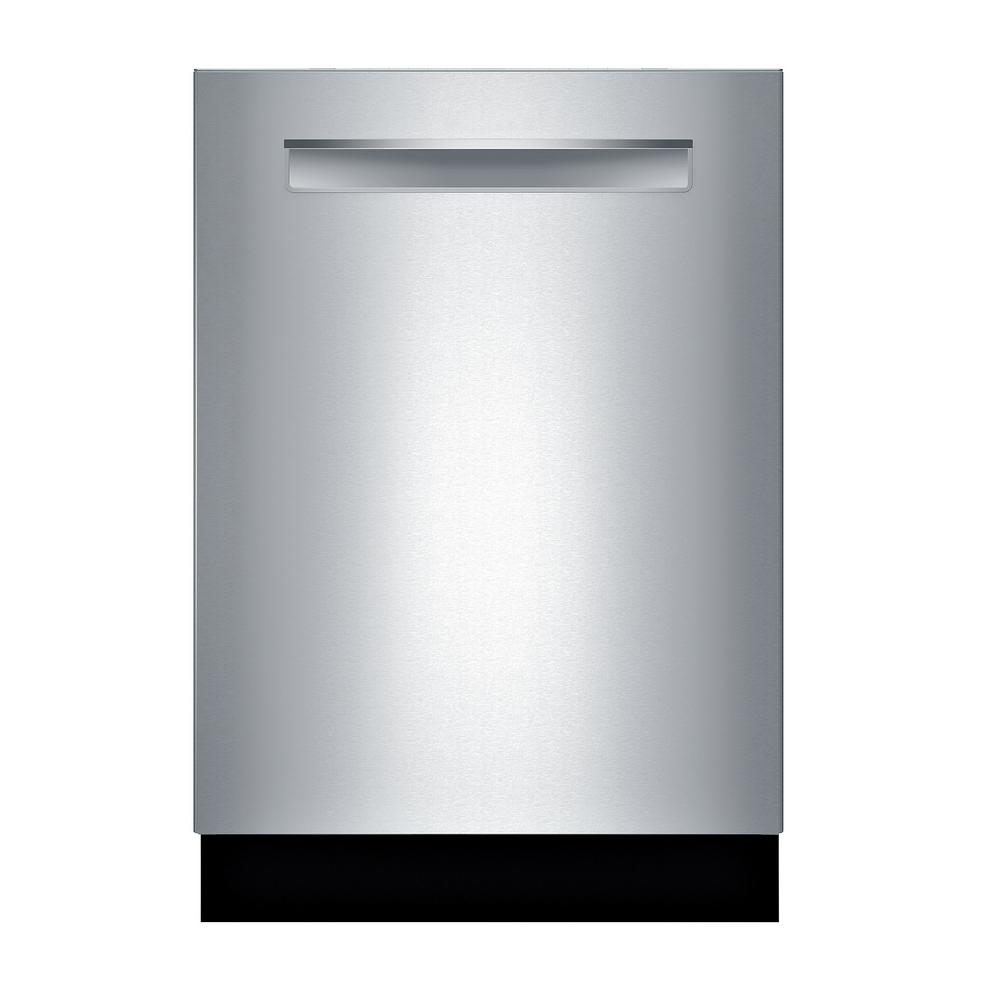 Buy at HomeDepot.com
One of the first on our list of dishwashers for 2021 is the Bosch 500 series.
We know you aren't buying yourself a new dishwasher for the looks, so we'll skim over its shining stainless steel.
This dishwasher comes with an AutoAir Dry door, which opens to allow any additional moisture out once the cycle finishes.
Its features include a stainless steel tub and a 44dB noise level, as well as the ability to fit right into your kitchen. With FlexSpace tines and EasyGlide racks, it's a dream of a dishwasher!
Overall, this model is very customizable, roomy, and great for busy kitchens. The flexible third rack is also a very nice addition.
Bosch 300 series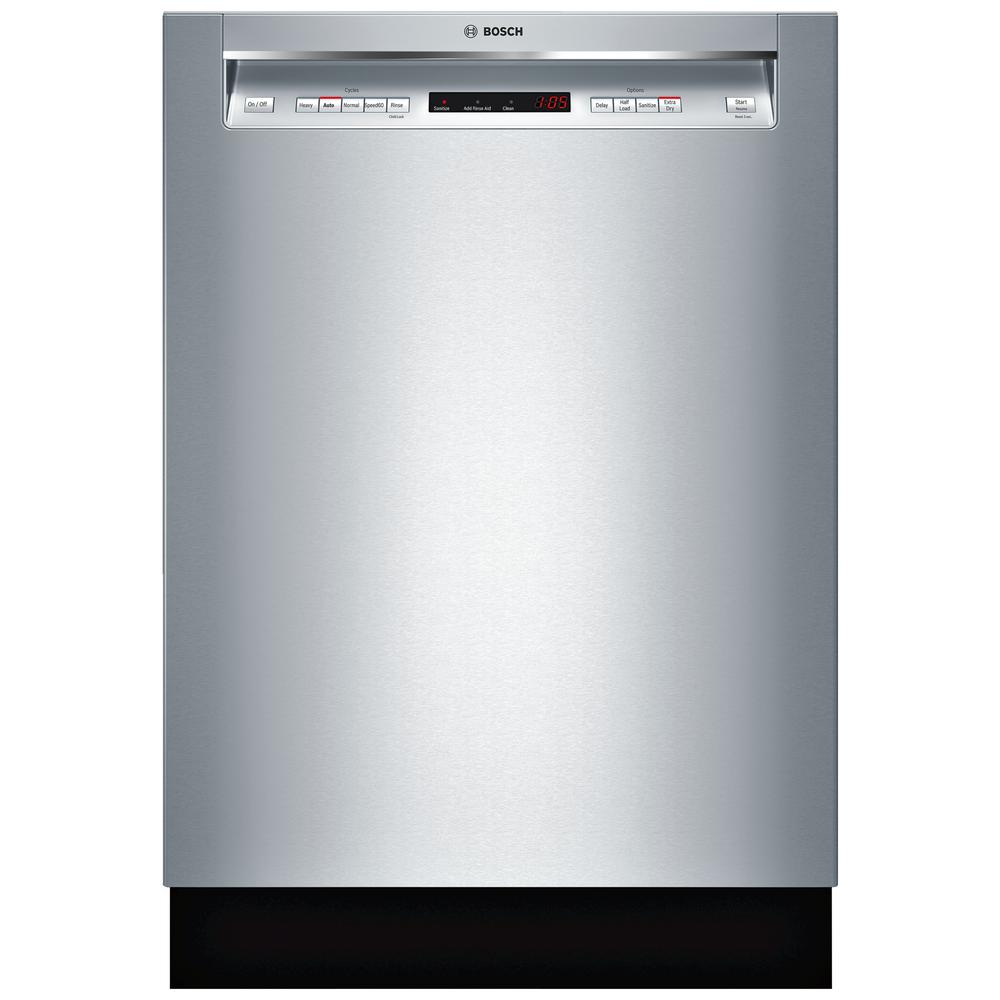 Buy at HomeDepot.com
Another model from Bosch, the 300 series, is a fantastic, quiet option that will work in almost any kitchen setting.
With a third adjustable rack for maximum flexibility. 44 dBA noise level, and more, there's just so much to love.
It comes in three finishes and colors, including stainless steel, black, and white. That's an added bonus that we know many homeowners will appreciate.
With the ability to hold 16 place settings and a stainless steel interior, the 300 series is one of the best dishwashers if you're looking to really get some bang for your buck.
It also has automatic temperature control, which detects the level of grime on the dishes in order to adjust the water's temperature.
Whirlpool 24 inch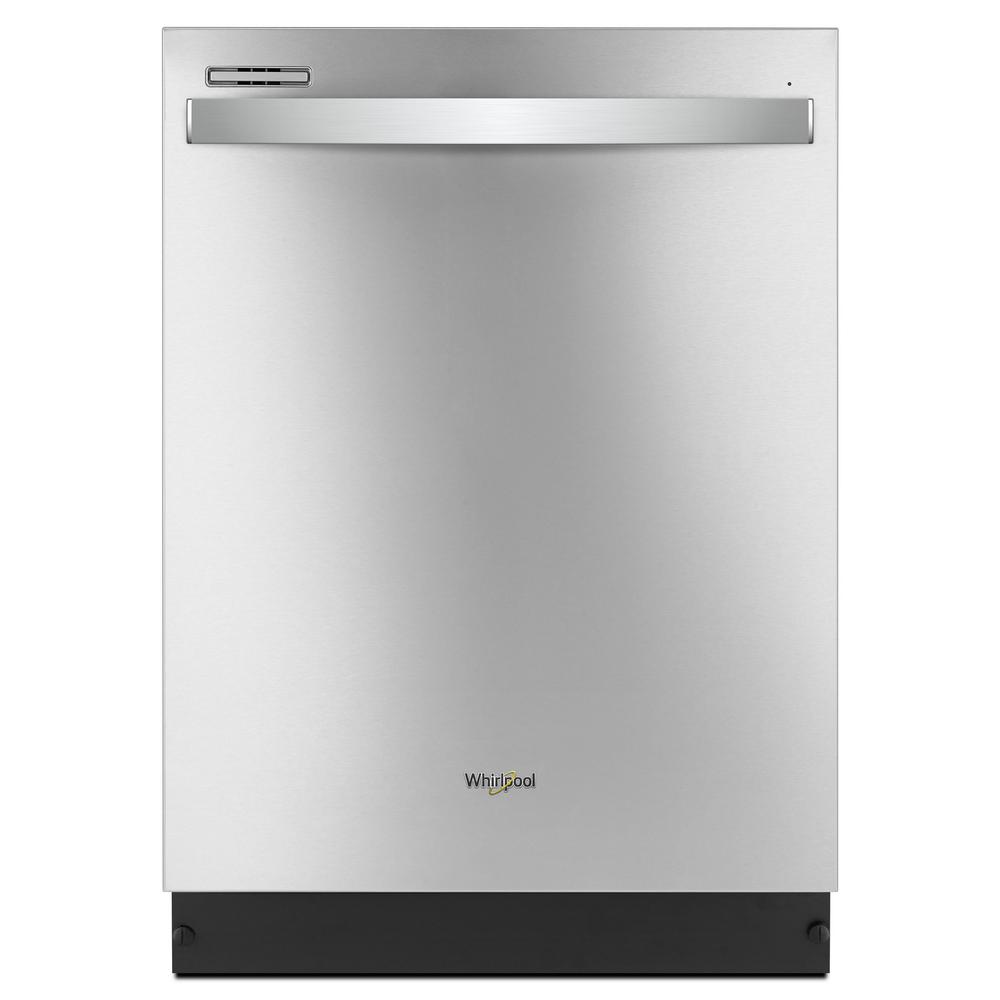 Buy at HomeDepot.com
If you're watching your spending and don't have the largest budget, Whirlpool offers a few great dishwashers for 2021.
The best for your budget while maintaining quality, the Whirlpool comes with a plastic interior, 13 place settings, and a noise level of 51 dBA. It's even Energy Star certified.
Whirlpool is often praised for its ability to both clean and dry dishes, and this model is no different. This dishwasher also has five wash cycles and sensor wash features to make cleanup a breeze.
And just because it isn't expensive doesn't mean it looks cheap. It has a sleek, semi-expensive look that will help it fit into just about anyone's kitchen.
Samsung StormWash Dishwasher DW80R7060UG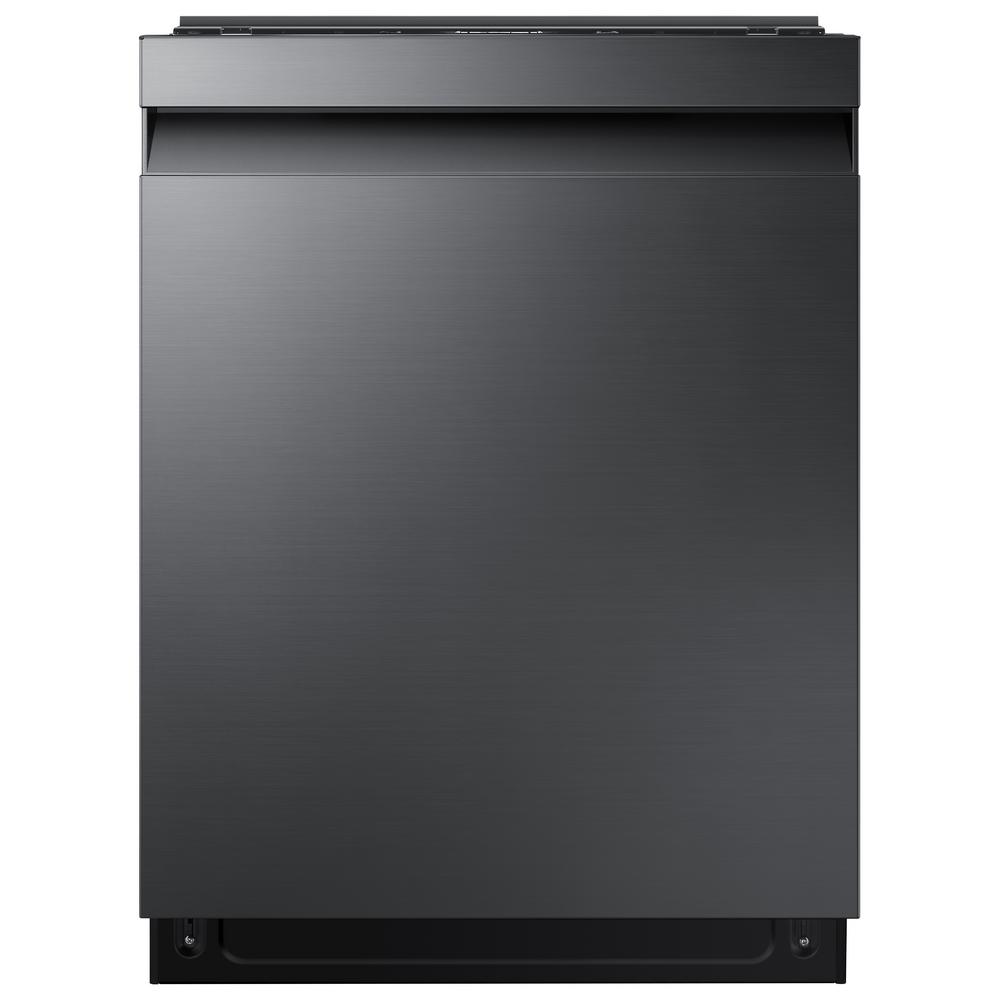 Buy at HomeDepot.com
Another one of the best dishwashers for 2021 is from Samsung.
This dishwasher can fit 15 place setting, three racks, a stainless steel interior, and a noise level of only 42 dBA.
With both sleek looks and functionality, the Samsung StormWash uses StormWash technology to clean your dishes correctly during every cycle.
It's also so quiet that you won't even know it's running most of the time.
The Samsung is trustworthy, too. You can wash your good dinnerware in this — we're talking fine wine glasses and expensive china.
Plus, it has an AutoRelease door, a third rack with adjustable positioning, and six wash cycles. It also has a half load option so you can wash your dishes every day, no matter how many you use.
GE Top-Control Dishwasher with Stainless-Steel Tub and Steam Prewash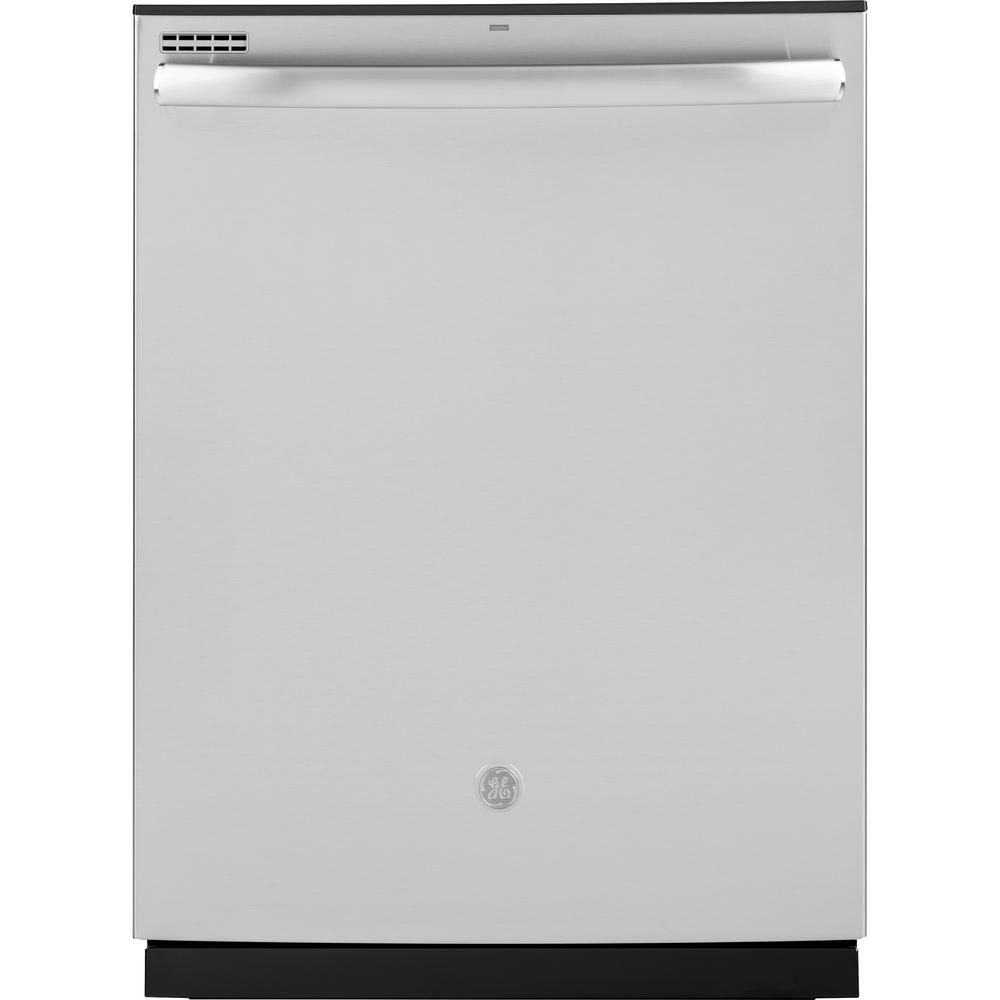 Buy at HomeDepot.com
If you live in a smaller home in a less-than-spacious kitchen, this next dishwasher is compact and doesn't take up a lot of room at all.
The GE 24-inch stainless steel top dishwasher is seriously impressive. This tiny unit packs a lot of power for its size, too.
With a noise level of 45 dBA, 3 racks for more room, and an adjustable upper rack, it's a fantastic option for those who have larger dish loads on average.
It uses a steam prewash to loosen any tough-set stains and dried-on food. It also has a hidden vent with fan dry, which will prevent you from having to unload soaking wet dishes.
All in all, this dishwasher is a great option for small homes that still need powerful dishwashers.
KitchenAid 24″ Top-Control Tall-Tub Dishwasher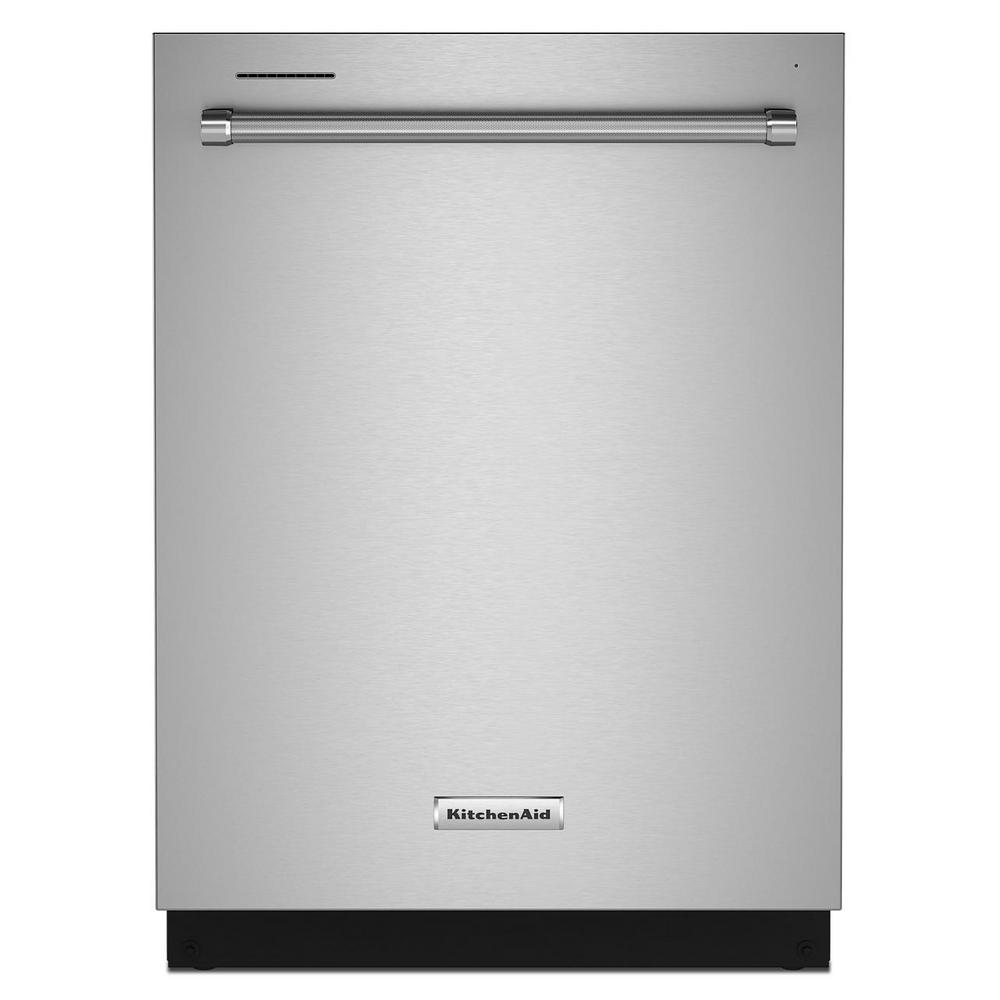 Buy at HomeDepot.com
Do you use a lot of plastic in your home? Maybe you have kids that absolutely need to drink from a specific favorite sippy cup, and you know you need to clean that cup a lot.
A dishwasher made with cleaning plastic in mind is exactly what you need.
This dishwasher from KitchenAid is made to clean plastic gently, and its delicate cycle can be trusted with even your kiddo's favorite plate.
This dishwasher has a third rack, a noise level of 44 dBA, and advanced water wash systems for all 3 of its racks.
And as a bonus, the dishwasher's finish can resist fingerprints and smudges. And that is a lifesaver when you have curious, tiny hands running around.
Bosch 800 series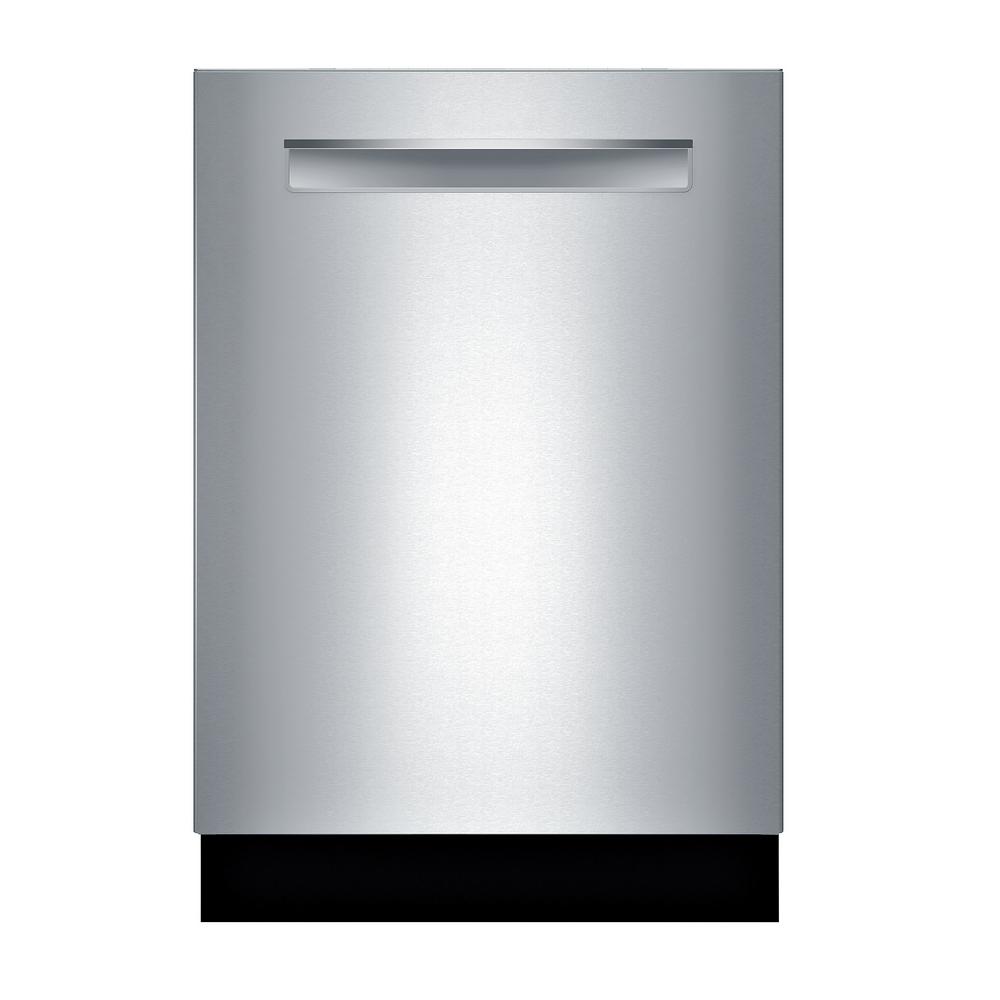 Buy at HomeDepot.com
Yet another dishwasher from Bosch has made the list! This model is one of the best high-end dishwashers on the market and is well worth the price.
With a noise level of 40 dBA, a V-shaped third rack, and 6 wash cycles, you know you're getting the best of the best.
This model also utilizes CrystalDry technology to dry your dishes completely — even plastic! You can wash just about any dish that is dishwasher safe, including cereal bowls.
Its large interior can easily accommodate 16 place settings, which is perfect for larger families! And you won't have to worry about re-washing anything at all.
This dishwasher gets everything done the first time around.
Smeg Dishwasher
Buy at ApplianceConnection.com
And finally, we present to you this model from Smeg.
If you're looking for a new dishwasher that fits into your kitchen's classic aesthetic, you may want to look into getting a retro-style dishwasher. But the pastel colors aren't the only plus side to this appliance.
This dishwasher comes with a stainless steel tub, 5 temperature settings, steel baskets, and 10 wash cycle options.
It's relatively quiet, too! You won't even notice it running in the background as you focus on other things. Its noise level is 43 dBA.
It also has a water leak protection system, the ability to fit 13 place settings, and is Energy Star certified.
Get Buying a Dishwasher off of Your Plate
From kitchen upgrades to putting together a whole new home, the new dishwasher you add to your home will be the sparkling gem of your kitchen!
We hope your new dishwasher gets you through many years worth of dirty dishes to come, and you love its work.
Which dishwashers for 2021 do you think are the best? Where do you get your dishwashers? Leave us a comment down below! We're always looking forward to hearing from you.
————————————————–
Mady Oswald is a writer in both realism and fiction, with a love for baking and animals.